What is matcha green tea?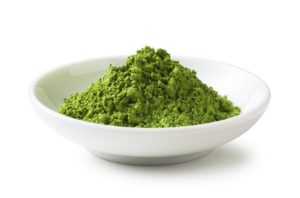 Matcha Green Tea is ground from Japanese green tea leaves. While Green Tea is known to have multiple benefits, Matcha Green Tea is reported to have up to ten times more potency than it's slightly less green tea cousin. While drinking Matcha Green Tea you are ingesting 100% of the leaf of the tea and its associated nutrients, and Matcha Green Tea has over 137 times more nutrients than just green tea. A cup of Matcha is equal to 10 cups of green tea with regard to nutritional content. The price that is paid for the increased nutrients is, however, a definite decrease in the taste. Matcha Green Tea is quite strong and like all things green, while very beneficial in terms of nutritional content the taste leaves much to be desired. That said, Matcha Green Tea:
Detoxifies the body
Calms the mind
Lowers Cholesterol
Aids in focus, memory and concentration
Contains ample amounts of Zinc, Chromium and Magnesium
Has an incredible and unparalleled amount of antioxidants
Boosts the immune system
Aids in weight loss
Contains Catechin EGCg, the most potent of anti-oxidants, which are known anti-carcinogens
Where to Buy Matcha Green Tea Powder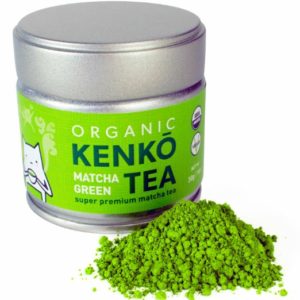 While the benefits of Matcha Green Tea have become well known, many underestimate the most important variable when purchasing the superfood – the quality. It does not really matter if you are purchasing the finest Spirulina, Chlorella, Shilajit or Magnesium Threonate if what you are purchasing is of poor quality or is out of date. Below are listed 5 of the most reputable places to purchase Matcha Green Tea:
Amazon is of course one of the best places to purchase Matcha Green Tea. The customer reviews are excellent and give a good idea of the quality of the Matcha Tea Powder as well as a comparison of other sellers. Free shipping is amazing if you have Amazon Prime and the system ensures that customers get value and are not at the mercy of the sellers as Amazon acts as an intermediary.
Republic of Tea is also an excellent distributor of fine quality teas. They have been in operation for over 25 years and have an excellent reputation for their products. They also supply a variety of different types of Matcha Green Tea. Customers have the added option of choosing USDA Organic, Biodynamic, Non-GMO Project Verified and Kosher to add to their filters.
Teavana is another distributor specializing in Tea. Like Republic of Tea it has a good reputation for good quality products. It also has a large selection of teas including Matcha Green Tea.
The Art of Tea provides good value for its products whilst also delivering a certain amount of each purchase to charitable organizations .
Culinary Teas provides a unique blend of Matcha Green Tea called Usucha. It is known for it's mild and creamy flavor.
For more information on selecting Matcha Green Tea see our article Best 5 Matcha Tea Powders for Every Budget. High quality Matcha Green Tea Brands include Encha Matcha
, Midori Matcha
and Grace Matcha
.