Essential oils such as tea tree oil, coconut oil, oregano oil, clove oil, and lemon essential oil have been used for thousands of years to treat a variety of ailments like the common cold, a runny nose, or a viral infection. If you're suffering from a sore throat or strep, here are five essential oils that can help.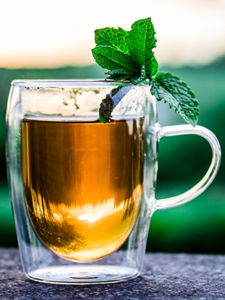 One of the most effective essential oils you can use for a sore throat is peppermint essential oil. The peppermint plant has been used medicinally for more than 3000 years for various ailments. Believe it or not, dried peppermint leaves were even found in ancient Egyptian pyramids.
One of the reasons peppermint essential oil is so effective is because the active ingredient in peppermint is menthol, which helps soothe a range of cough and cold symptoms. It's so effective that you'll even find it in a variety of over-the-counter medications, like cough drops, syrups, and medicinal teas. Peppermint essential oil can actually be more effective than these medications because it's pure and high quality.
While there are a lot of ways to take peppermint oil, the best way to combat a sore throat it to inhale it. You can also add a few drops to hot tea or use it as a rub on your chest and throat.
Tea with honey and lemon has long been a common treatment for a sore throat. Maybe you thought that the lemon was just to add some flavor but it actually contains antioxidants, vitamin C, and might even boost your immune system. It's also believed that lemon acts as an anti-inflammatory and has antibacterial properties, too.
Lemon oil can be more effective than lemon juice primarily because it comes from the peel and not the inner fruit. The nutrients in the lemon rind are much denser than in the fruit itself. The peel is cold-pressed to extract the oil and to keep the natural compounds intact.
To use essential oils to help your sore throat, there are a few options. First, you can do it the old-fashioned way and put a few drops in your hot tea. It's also effective when used as a rub on the chest and neck so you can slowly inhale it to get extended benefits. Or, you can inhale it more directly by adding a few drops to a diffuser.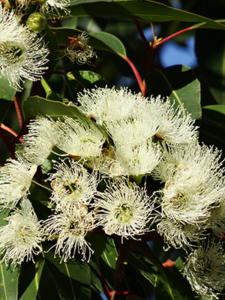 Eucalyptus is a great option if you're trying to get rid of a sore throat, allergies, cough, or headaches. It's believed to boost your immune system and packs a lot of antioxidants, too. Because it fights bacterial, viral, and fungal infections, it's an exceptionally good choice because it will help fight the bacteria that causes strep as well as sore throats that are viral in nature.
There are a lot of different kinds of Eucalyptus trees but only two are used for harvesting essential oils. The active component is called Eucalyptol and makes up between 70 and 90 percent of eucalyptus essential oil which is one reason why it's so effective. This is done through cold pressing, which produces a much more potent blend than other extraction methods.
You can apply eucalyptus oil to your chest, neck, and temples for inhalation or use it in a diffuser and breathe the vapor indirectly. Do not put it in your tea or ingest it in any way. Unlike some other oils, it's for topical and inhalation use only.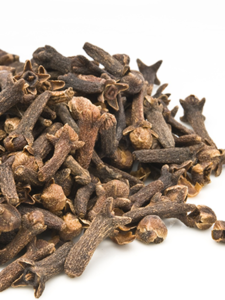 You might know clove as a spice you use in your kitchen but they also have significant medicinal qualities. Cloves contain eugenol, a local anesthetic which was, at one time, commonly used by dentists. Cloves are found in tropical climates in nature as an unopened pink flower on an evergreen tree. The flowers are picked twice a year and dried until they take on the familiar brown color. The dried flowers are steam distilled to collect the oil.
Clove oil has been shown to inhibit the growth of a broad spectrum of bacteria, even those that can be resistant to other interventions. Another reason that clove is so good for sore throats is its high antioxidant content which helps protect the body from bacterial and viral infections. A great thing about cloves is that, in addition to helping you calm a sore throat that's already started, you can also use as a preventative measure so you don't get a sore throat in the first place.
The best way to use clove is in an oil diffuser and inhaled. You can use it topically, but remember that clove is very potent and should always be mixed with a carrier oil. Also, clove can interact with blood thinning medication so it's best to avoid it if you're prescribed one of these medications. Also, clove oil should not be ingested for longer than a 2-week period as it can interfere with the good bacteria in your gut.
Juniper berry has a long history of being used to detoxify and boost the immune system. This oil is very high in antioxidants, antibacterials, and antifungals and has been used to treat various ailments dating all the way back to medieval times. Today, it's most commonly used to treat sore throats and all the other things that come along with catching a cold, like fatigue and muscle aches.
One of the most effective ways to use juniper berry oil is in a diffuser. You can either let the sweet scent fill your home and breathe it in slowly and steadily or you can inhale it directly for faster action. If you're going to use it topically, remember that it must be used with a carrier oil and should not be applied directly to your skin.
Juniper berry oil has also been FDA approved for consumption. If you prefer to ingest it, make sure to get a high-quality oil and use it sparingly by adding a drop to water or blending it into a smoothie. Also, do not use it for longer than for weeks as it could cause difficulties with your kidneys and liver. Also, if you have a preexisting liver or kidney problem, you should avoid juniper berry oil.