As part of caring for teeth and gums, people are choosing traditional and plant-based methods. The shift is due to an increased awareness of high chemical content in products. Essential oils can be used to help toothaches & oral health. Essential oils such as clove oil, carrier oil, peppermint oil, coconut oil, lavender oil, and olive oil are a method of being embraced.
Clinical trials have shown essential oils can be used for preventive and therapeutic purposes. Studies reveal these plant-based extracts neutralize bad breath, remove plaque, fight cavity-causing bacteria, reduce inflammation, and relieve toothaches.
There are different kinds of toothaches. The pain ranges from mild to severe. The pain can be constant or occur when eating or drinking certain foods and beverages, at night, chewing, and biting.
At times it is difficult to pinpoint the location of the pain. Upon visiting a dentist, you learn the perceived site of the pain is not the area causing the problem. The sensation is known as referred pain.
Extreme toothache cases are swelling around teeth, discharge from gums or teeth accompanied by symptoms like fever, jaw pain, or a headache. The soft part of a tooth, the pulp, is inflamed when a toothache occurs.
Nerve endings transmit pain signals to your brain that let you know there is an issue. Common reasons for toothaches are teeth grinding, impacted wisdom teeth, infected gums, damaged fillings, cracked teeth, and tooth decay.
Tooth decay is the most common problem for both adults and children. Plaque breaks down the enamel of the teeth, exposing the pulp. Essential oils are fantastic natural remedies that have been used for thousands of years.
When used for oral hygiene, they fight plaque and bacteria and keep teeth clean and white. Different oils can be used. Results vary, but they combat mouth ulcers and gum disease.
They also soothe the pain caused by the tooth infection, decay, or toothaches. There are 3000 medicinal plants with essential oils identified for possessing antifungal, antibacterial, and antioxidant properties.
How to use essential oils for toothaches
The easiest way to make use of essential oils for toothaches and oral health is to form mouthwash by mixing a quarter cup of filtered or distilled water with a couple of drops of essential oil. The five essential oils listed below appeared the most often in nine sources about using them for oral health. All sources recommended clove. The other top-ranking essential oils were peppermint, cinnamon, myrrh, and tea tree.
Best Essential Oils for Toothaches and Oral Health
Clove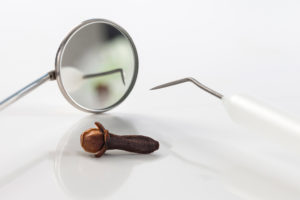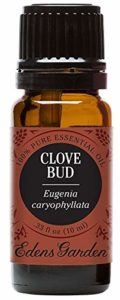 Clove has been used as a natural disinfectant for thousands of years. Its potent antibacterial properties inhibit bacteria growth in the mouth.
Clove serves as a painkiller for a standard toothache, gum disease, and canker sores. It aids in numbing the pain associated with them. A few drops on the affected area brings immediate relief.
It has the added benefits of an antioxidant and antifungal agent. Clinical research demonstrates clove inhibits pathogenic bacteria. Dentists have used clove to disinfect root canals because of its moderately strong germicidal properties.
A fascinating study showed clove essential oil could inhibit the growth of wild and mutant strains of bacteria.
Peppermint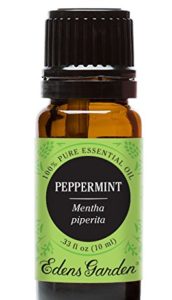 Research has found that peppermint essential oil is extremely useful in killing anaerobic bacteria. This type of bacteria thrives in low oxygen environments like the mouth. They can cause gum disease.
Most mouthwash and toothpaste products are peppermint-flavored because of its clean, fresh taste. The flavoring lacks the therapeutic qualities of natural essential oil.
Peppermint is one of the most versatile oils used to treat a plethora of complaints. Menthol is the most active ingredient. Menthol has potent antimicrobial properties that are effective against some kinds of bacteria including those anaerobic strains thriving in the mouth.
Peppermint is another essential oil that has been used for hundreds of years to keep gums and teeth clear of infection.
Cinnamon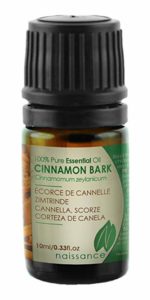 Cinnamon is a wonderful alternative to menthol-based oils. It is equally useful for oral care. Cinnamon makes an excellent antiseptic.
The bark oil of cinnamon has reduced bacteria within 48 hours when applied to a colony of them. Chewing gum that contains cinnamon has the flavor added intentionally.
Cinnamon oil combats dental plaque. Similar to clove, cinnamon is a frequent ingredient in oral care natural recipes.
It boosts circulation, brings healing to damaged tissue cells, fights fungi and bacteria, freshens the breath, and reduces pain. If you are fond of cinnamon spice, you will love this essential oil. The antifungal and antibacterial properties are incredible for improving oral health. You will no longer have to deal with unwanted effects of bacteria and microbes.
Myrrh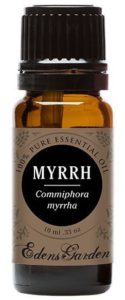 This essential oil is an excellent antiseptic that soothes pains associated with ulcer, gum and teeth concerns. Myrrh is believed to aid in blood flow stimulation for improved gum strength and health.
Reasons people shy away from myrrh are the warm and woody aroma and a taste that is not as pleasing as some of the other essential oils.
If those characteristics are not bothersome to you, myrrh is worth purchasing. It is both a soother and antiseptic. Myrrh is especially useful in confronting gum complaints such as ulcers.
As an astringent, it is excellent for gum tissue improvement. Mouth wounds heal quickly, which is appreciated when pain is associated with canker sores.
Tea Tree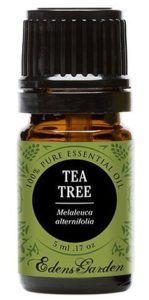 When looking for an essential oil for sore gums, tea tree oil can alleviate periodontal disease. If you purchase dental care items from a natural health food store, it is likely that all-natural tea tree is listed as an ingredient.
It is recommended for gum infections. The antiseptic properties help eliminate bacteria. Gingivitis symptoms decrease and may be eliminated with the regular use of tea tree oil mouthwash
.
The tea tree antimicrobial properties are ideal for tooth pain caused by infection. It protects the gums from bacteria assault. Tea tree oil also improves teeth whiteness and helps clean the teeth.