Whether you're thinning a bit on top, or are having hormonal issues, it's hard experiencing hair loss. But it doesn't have to be that way. By nourishing your hair, you can prevent hair loss, improve dull looking hair, or increase hair growth. With argan oil, hair growth can be stimulated naturally. After lots of research on argan oil, we've found the best argan oil for hair growth options.
Skip to the bottom for our best argan oil brand recommendations (spoiler, here's the top pick)!
Benefits of Argan Oil for Hair
Argan oil is a plant oil produced from the kernels of the argan tree that is found in Morocco. The argan oil is extracted from the fruit of the tree and contains vitamin E, antioxidants, and many other fatty acids.
Argan oil is a natural hair softener and moisturizer. It is amazing an amazing product for making hair shiny and well-groomed and can be used by both men and women.
Argan oil can be used in the following ways:
Natural hair conditioner: Use argan oil as a hair conditioner, leaving it for an extended period of time to soften and moisturize your hair. Comb it through with a wide tooth comb to get the most out of it.
De-frizzer: Throw away all of your unnecessary hair products and use argan oil as a natural de-frizzer. It will make your hair shiny and smooth.
Hair growth stimulator: If you use argan oil on your scalp daily, you will notice an improvement in your hair thickness and growth.
How to use argan oil for hair growth
To get the best out of your argan oil, you need to use it properly. So make sure you follow these simple steps:
Pour a few drops onto your hands, and rub together

Massage the oil into your scalp
Repeat until your whole scalp is moisturized
For maximum results, you should
Massage the oil for up to 10 minutes per treatment

Leave the argan oil in overnight (protect your pillow with a towel), and wash out in the morning
Best Argan Oil Brands
What you should look for in an argan oil product
Before seeing our top choices for argan oil brands you should know what to look for. If you want an all-natural, quality argan oil, it should be
from Morocco where the argan trees are found
contain only one ingredient – argan oil
packaged in a dark glass bottle to prevent any impurities
The following products are all of these things!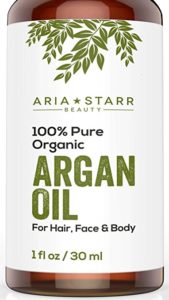 Price: $9.95 for 1oz (check price)
Argan oil doesn't get any better than Aria Starr. This 100% pure, certified organic oil is truly liquid gold. Stored in a dark glass bottle to maintain its beneficial fatty acids and vitamins, it's a great, quality product.
Aria Starr boasts of customers reporting fast results. The moisturizing, nourishing properties of the oil work quickly to repair any damage.
Argan oil will soothe sensitive, flaky skin on the scalp, feeding the skin cells deep down. This encourages healthy hair growth. At the same time, it smooths away frizz, deeply conditions and treats split ends. It's even completely safe to use on treated and colored hair. So you end up with a salon-quality treatment from root to tip in the comfort of your own home.
Aria Starr are so confident of their argan oil, they've brought out a guarantee. Not just a standard 30-day money back guarantee. Their guarantee is for an entire year – if you're not satisfied, just return it and receive a refund, no questions asked! Even if the bottle is empty. You will not find a better guarantee on argan oil than that!

Price: $18.99 for 4oz (check price)
Pura d'or's argan oil really is also everything a quality argan oil should be. Cold-pressed and unrefined, it is certified organic and is free of pesticides, parabens, fragrances, chemicals and other additives.
It is hypo-allergenic, making it ideal for even the most sensitive of scalps. Pura d'or suggests it is even gentle enough for daily use, no matter what your skin or hair type.
Argan oil provides moisture that locks into your hair and scalp, nourishing and repairing cells. It will heal your hair naturally and gently, while conditioning and moisturizing it. The end result is glossy, shiny healthy hair.
But argan oil goes further. It provides the nutrients that your hair follicles need to produce healthy hair. By feeding these nutrients, it gently encourages healthy hair growth. You will have strong hair, free of frizz and split ends. Everyone will want to know your secret.
Other Uses for Argan Oil
Since you're already going to be buying argan oil to use on your scalp, you might as well consider all of the other amazing benefits you can get from it!
Argan Oil for Beards
If you or someone in your household has a beard, argan oil is an excellent product to keep the beard maintained. It will look amazing after moisturizing and conditioning it with argan oil. We actually wrote an entire article on using argan oil for beards here.
Argan Oil for Skin
If you get 100% argan oil products, like the two above, you can also use it on your skin as a deep moisturizer. It will not clog your pores but will leave your skin feeling soft and silky. Just be sure not to use too much or to wash it off after putting it on the night before because your skin might be a little too oily for your liking.
Argan Oil for Nails
Do you have dry, brittle nails? Maybe one too many gel manicures? You can use argan oil on your nails to improve cuticles and nail quality. Just add a little after washing your hands or even dab some on as a top coat. Your nails will be shiny and smooth, almost as if you were wearing clear nail polish.