Many people are asking me if there is a right way to do it when it comes to matcha tea preparation. As with other superfoods, there are best ways of preparing matcha tea. In this post, I am going to share the best 3 ways to make matcha tea.How to drink matcha tea in 3 different ways
How to drink matcha tea in 3 different ways
There are many different ways to drink matcha tea. I am going to tell you three of the best ways that I like drinking my matcha tea: straight from a tea bowl, in a cup, and sometimes as a green tea latte.
Why I drink matcha tea in the morning
In my previous post, I mentioned that I like drinking matcha tea every morning to give me a healthy dose of antioxidants. I find that I'm energetic throughout the day when I start with a matcha tea. According to the latest research, matcha is packed with more antioxidants that other superfoods and has 137x more antioxidants than traditional green tea. Here's how to drink matcha tea and prepare it so that you can get more of its nutrients.
The right tools for matcha tea preparation
I highly recommend that you use traditional Japanese tools for matcha tea preparation. These are:
Bamboo whisk (Chasen)
Bamboo scoop (Chasaku)
Matcha sifter (Furui)
(You can buy these in a starter kit here
to make it easy.)
Some people use a metal whisk to prepare their matcha tea. This is okay, but if you want your matcha tea to turn out well, then I recommend you use a Chasen (or bamboo whisk) for your matcha tea preparation. Using Japanese utensils will enrich your experience and make you more likely to enjoy drinking a perfect bowl of matcha tea.
For your matcha powder, I recommended Kenko Organic Matcha Green Powder Ceremonial Grade. Kenko Tea produces their tea in small batches to guarantee freshness. All their matcha comes from Nishio region of Japan, the largest green tea producing region of the country. For other matcha green tea recommendations, check out my article Best 5 Matcha Tea Powder Brands for Every Budget.
How to drink matcha tea using a tea bowl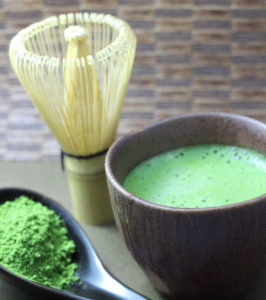 This is a more traditional matcha tea preparation and would require that you use a matcha tea bowl.
Preheat the bowl by filling it up to a third with hot water.
Also wet the tips of your bamboo whisk by placing it face down in the bowl filled with water. Be careful not to wet the whole whisk.
Wait for a few minutes until the bowl is heated, then throw away the water and dry your tea bowl with a cloth.
Sift 2 scoops of matcha powder into the cup using your sifter. You can also sift the powder beforehand and add 2 scoops to your cup.
Add around 70ml of hot water. Best temperature is 70 degrees Celsius or just under a boil. Another good tip: You can pour hot water into another bowl and leave it to cool a bit before pouring it out into your tea bowl with matcha powder.
Hold the bowl in one hand, and with your whisk in the other hand, whisk the matcha in a "W" motion until your tea has a thick froth and a bubbly surface.
Breathe deep and savor your matcha tea straight from the bowl.
Important: Don't use boiling water for matcha tea preparation. According to matcha tea expert Eric Gower, boiling water will kill the taste of your matcha. Prepare your matcha tea too hot and it will leave a bitter taste.
How to drink matcha tea in a cup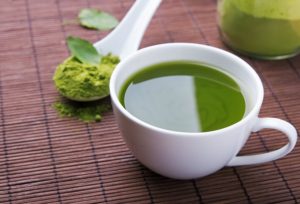 This is a more convenient way of matcha tea preparation:
Bring filtered water to a boil and let it cool to 70 degrees Celsius.
Place 2 scoops of sifted matcha powder in a cup and add a few drops of hot water. Using a spoon, mix it to a paste.
Add more of the hot water while stirring. Adjust according to taste.
Enjoy your hot matcha tea drink.
How to drink matcha tea as a latte
This method of matcha tea preparation is great for beginners and those who are still adjusting to the taste of matcha. If this is your first time, you can try budget picks such as the Jade Leaf – Organic Japanese Matcha Green Tea Powder which is culinary grade, inexpensive, and can be used for blending in smoothies.
Here's how to prepare a matcha green tea latte:
Make a matcha tea in a bowl by mixing 1 scoop of powdered matcha and 2 oz. of hot water.
Using a whisk, stir until it becomes foamy.
Transfer the matcha tea into your favorite cup and pour milk.
Sweeten your drink with agave nectar or honey. You can also add mint, vanilla or almond flavors to suit your taste.
Enjoy your matcha green tea latte.
Things to remember for your matcha tea preparation
Great-quality powdered matcha tea is necessary for you to get the best out of your drink in terms of flavor and nutrients. Here are The 5 Best Places to Buy Matcha Green Tea Powder.
If your matcha tea drink is bitter, use a cooler water or whisk the drink more.
If your matcha does not froth, it may be that you added more water or you need to whisk it more.
Sift your matcha powder well. This is necessary for matcha tea preparation to avoid clumps of powder in your drink.
Matcha tea preparation is a centering and calming experience. Enjoy every minute of it!