Essential oils and their benefits are all the rage in recent years. We hear about them on health shows and we see the advertisements all over the Internet. Despite the recent publicity, essential oils have been used for centuries by several different cultures.
There's even recorded evidence of the Egyptians' use of aromatic oils from 4600 B.C.E. The pharaohs had a use for each scent and an idea behind what the scent could unlock in your body and mind.
Now, there are studies on essential oils, picking apart the benefits of each oil. The Egyptians were right about the health benefits of adding these oils to your life. We're going to learn about the best essential oils to help you on your way to a healthier journey and to help you lose weight!
How to Use Essential Oils
Essential oils are hydrophobic liquids that are derived from the flowers, the fruits, the leaves the peelings, the roots, and the seeds of different fruits and plants. This liquid, or oil, is made of positive aromatic compounds that can help with a variety of health problems. There are a few ways you can use essential oils to maximize their benefits:
Topically
Essential oils can be applied directly to your skin
You should never ever apply undiluted oils to your skin. Some of these oils are extremely potent and can cause irritation or even worst case scenario, damage, to your skin
To dilute essential oils, mix a few drops of coconut oil. Coconut oil is a carrier oil that cuts down on the potency of other oils
Never rub essential oils on open wounds. The best places to apply them are your neck, temples, and the soles of your feet
Reed Diffuser
Reed diffusers (the best and simplest to use on Amazon) are the go-to for most essential oil beginners because they're cheaper and easier to set up.
They are usually vases with reeds place inside.
You can fill the bottom of the diffuser up with essential oils so the smell can travel up the reeds. You'll have to flip the reeds and rotate them as needed.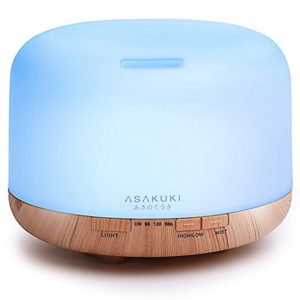 Ultrasonic Diffuser
Ultrasonic diffusers (top one on Amazon) use ultrasonic frequencies. These frequencies break down the essential oils so they're dispersed into the air.
In order to keep your ultrasonic diffuser clean and so scents don't mix, you need to clean them with white vinegar whenever you go to switch oils.
5 Essential Oils for Weight Loss
Grapefruit
Grapefruit oil is extracted from the peelings of the Citrus paradisi grapefruit. About 88% to 98% of grapefruit oil is made up of the great component called limonene. Limonene is known to be a mild appetite suppressant and the enzyme works with your body to boost metabolism, making it easier to burn fat. It's also known to boost your energy!
Check out Young Living's Grapefruit Essential Oil!
Lemon
Lemon oil comes cold pressed from the peelings of the fruit, lemon. Lemons, or Citrus limon, is a flowering plant.
When you use both lemon oil and grapefruit oil together, you can increase lipolysis in your body. Lipolysis is your body's way of breaking down annoying fat.
Just like with grapefruit oil, lemon oil is full of the enzyme limonene. So, you get the double bonus of an appetite suppressant and a metabolism kickstarter.
Check out Young Living's Lemon Essential Oil!
Fennel
Fennel oil is produced by crushing the seeds of the fennel plant or the Foeniculum vulgare. Fennel oil is lesser known to the mainstream essential oil fanatics. But the weight loss benefits are still outstanding. According to some studies, fennel oil can improve your body's digestion of food. Improving the way you digest food can cut down on the calories your body is taking in.
Fennel is known to have melatonin in it, a vitamin used normally as a sleep aid. Melatonin has been linked to slowing down weight gain. It makes sure your body is burning off unwanted fat instead of continuing to store it.It's also believed that fennel oil can also boost your metabolic rate.
Check out Young Living's Fennel Essential Oil!
Cinnamon
Cinnamon oil comes from the bark (and sometimes leaves) of the Cinnamomum tree.
Cinnamon oil can boost (or heighten) the way your body reacts to insulin. If your body starts to have difficulty or stops reacting to insulin, your body starts to store fat.
When your body starts to only store fat, instead of burning it, you start to put on weight and the process of losing weight becomes harder than for your average person.
Check out Young Living's Cinnamon Essential Oil!
Ginger
Ginger is a flowering plant that comes from Zingiberaceae. In ginger hides the compound gingerols. Gingerols cuts down on inflammation caused by varies diseases. When inflammation is reduced, your body is able to absorb the important vitamins and minerals it needs. The proper vitamins and minerals push your metabolism to work harder and speed up.
It's also known to regulate your blood sugar.
Check out Young Living's Ginger Essential Oil!
Bonus: A Diffuser for Your Home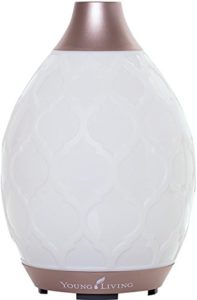 Young Living Essential Oil Home Ultrasonic Desert Mist Diffuser
Young Living's diffuser is a 3-in-1. It acts as an atomizer, aroma diffuser, and a humidifier
The modern teardrop design was inspired by a Moroccan trellis
It has 11 light settings, including a candle flicker setting.
On the "high" mode, this diffuser can run for 5 to 6 hours
It uses ultrasonic frequency technology by creating frequency waves that break down the essential oils. The essential oils become microparticles in the air
This diffuser can transform your home or office into a wonderland of scent
Conclusions
Essential oils are not the end all, be all of losing weight. Without the help of a healthy diet, cutting down on your calories, and exercise, you won't find yourself shedding pounds on essential oils alone.
These essential oils are to help you stay on your weight loss journey and to cut the difficulties of changing your lifestyle in half. But they'll be the best weight loss aid you'll ever lay your nose into!