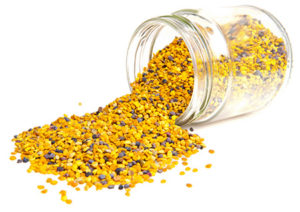 Bee pollen has been used as a health and nutritional supplement for 2,500 years. This anti-oxidant and superfood is packed with Vitamins C and E, selenium, lycopene, and other minerals. It is also known to be high in protein and is used to combat depression and fatigue. Although healthy, bee pollen can still have side effects especially to people with known pollen allergies. Below are possible bee pollen side effects you have to be aware of. If you want still want to try bee pollen (and you should if you don't have allergies 🙂 ), check out our top 3 bee pollen recommendations.
Allergic Reaction to Bee Pollen
The most common and most fatal bee pollen side effect is allergies. According to an article from The Gale Encyclopedia of Alternative Medicine, some people may be allergic to bee pollen. This can, in extremely rare cases, cause death. Although an anaphylactic reaction or an allergic reaction after initial ingestion is rare, here are tips to avoid bee pollen side effects according to Angela, CNP of Bee Pollen Buzz…
Avoid bee pollen side effects and allergic reactions
1. Start slow. Consume only a couple of granules at a time.
2. Take bee pollen with a full stomach.
3. Start using on non-allergy seasons.
4. Consume daily.
An allergic reaction remains to be the top among bee pollen side effects and is associated with runny nose, sneezing, teary eyes, headache, itchy throat, difficulty in breathing, and rashes.
Other Bee Pollen Side Effects
Bee pollen is considered safe to take orally, but on rare occasions some people experience side effects such as diarrhea, gastrointestinal irritation, and acute renal failure. Experts explain that this is due to the reaction of the immune system to a foreign substance in the body. The best way to avoid these side effects is to start small and gradually introduce bee pollen into your diet.
According to Livestrong, there are also reports of bee pollen causing photosensitivity after taken with other ingredients. While the supplement itself is not linked with photosensitivity, the study concludes that bee pollen may cause a reaction in an individual when combined with other ingredients.
How to Minimize Bee Pollen Side Effects
We have been taking bee pollen supplements with no adverse effects. If this is your first time to take bee pollen as a supplement, we suggest that you start by gradually introducing it in your system. You can begin by looking at our 3 best bee pollen supplements for every budget. These supplements are in granule form to make sure that all essential nutrients remain intact.
Here's how to take bee pollen granules for the first time:
Get one bee pollen granule and place it under your tongue.
Let the granule completely dissolve. This will be quickly absorbed by your mucous membrane and taken directly to your blood stream.
If there is no adverse reaction, you can increase your dose the next time by adding another granule.
Increase your dosage daily until you are sure that you will not experience any side effect.
Don't take while pregnant or breastfeeding
WebMD cautions women not to take bee pollen supplements while pregnant because there are concerns that it might stimulate the uterus and threaten your pregnancy. It is also best to avoid taking any form of bee pollen supplement, whether granule or capsule, during breastfeeding as we don't know how it might affect the infant.
References:
http://www.livestrong.com/article/89248-bee-pollen-side-effects/
http://www.bee-pollen-buzz.com/side-effects-of-bee-pollen.html
http://www.webmd.com/vitamins-supplements/ingredientmono-78-bee%20pollen.aspx?activeingredientid=78
Find this article on bee pollen side effects informative? Subscribe to our blog for more tips and information on nature's best stuff and leave a comment to let us know if you have questions or tips!