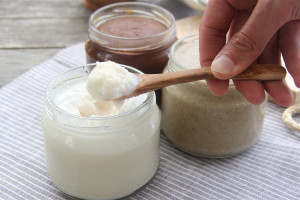 Coconut butter is a delicious supplement to your diet that has a bunch of health benefits. It's full of good fatty acids and antioxidants. Below are what I think are the top 5 health benefits. If you're interested in trying coconut butter, you might want to try out my favorite brand or check out our 5 favorites from around the world.
#1 Healthy Moisturized Hair
Cocoa butter can also help to moisturize your hair, helping to improve its general appearance and strength. Cocoa butter has also been linked to a lower incidence of dandruff and healthier hair follicle beds, thereby reducing hair loss and preventing the onset of male pattern baldness.
#2 Anti-aging effects
Coconut butter has a high concentration of antioxidant compounds including oleic acid, palmitic acid, and stearic aced. These help neutrlaize free radicals in the body and skin which reduce the signs of aging. It is has also been shown that coconut butter reduces scars on the skin.
#3 Reduce Inflammation
The rich blend of fatty acids and antioxidants in cocoa butter make it an ideal choice for people who want to reduce skin inflammation. You can apply coconut butter to skin problems like psoriasis, eczema, or rashes. You will get quick, soothing relief, on top of a great aroma.
#4 Prevent Infections
Fatty acids and breakdown products in coconut oil can kill harmful pathogens, potentially helping to prevent infections. Coconut contains lauric acid and monolaurin. Lauric acid is a Medium-Chain Triglycerides (MCT) which is a type of fat that is easily digestible and have fewer calories than other types of fats. Monolaurin is also a fatty acid that has demonstrated the germ-killing and disinfectant properties. They have both been found to kill harmful pathogens like bacteria, viruses and fungi.
#5 Reduce hunger and aids in weight loss
By eating small portions of this healthy fat, you will surely notice that you are fuller faster. You could eat fewer calories in a day. In the end, the fatty acids in coconut oil can significantly reduce appetite, which may positively affect body weight over the long term.