Wheatgrass juice is some of the most nutrient dense stuff on the planet! I am a huge fan of wheatgrass juice (you can find my favorite wheatgrass brands here) and add it to my diet to get all of the wonderful health benefits it contains. I've been drinking wheatgrass juice for a while (and even make it at home) and tried many different wheatgrass juicers over the years.When juicing your wheatgrass, you'll want to use the best wheatgrass juicer you can so none of your precious wheatgrass goes to waste! This list below includes the best 3 wheatgrass juicers on the market today.
Best Electric Wheatgrass Juicer:
 

Omega J8006 Nutrition Center Juicer
Omega is one of the most popular juicer brands and their reputation is impeccable. The Omega J8006 is an excellent choice for a wheatgrass juicer, but it will also juice anything else that you want to juice including leafy green vegetables, other vegetables, and fruits. It operates at a low speed of 80 RPMs, which helps to reduce foaming, clogging, or heat build-up. Many people choose electric wheatgrass juicers over manual juicers because of how easy it is to simply put wheatgrass in and let the juicer do all of the work. A bonus of this juicer is that you can also grind coffee, make nut butters, extrude pasta, make baby food, mince herbs or garlic, or make fruit ice creams with it.
The Omega j8006 comes with an unbelievable 15 year warranty on all original parts and labor. This is the longest warranty offered for any juicer on the market, which is a good testament to Omega's confidence in its quality! The price is also very affordable compared to other high-quality electric wheatgrass juicers making this one a no-brainer.
Best Manual Wheatgrass Juicer: Miracle Exclusives Stainless Steel Manual Wheatgrass Juicer MJ445
Manual juicers do take more work than an electric wheatgrass juicer, but they are also more affordable, and some people prefer a more hands-on approach and enjoy making their wheatgrass juice this way.
A lot of manual wheatgrass juicers you see on the market are made of plastic. The MJ445 Miracle Manual Wheatgrass Juicer is made of solid non-toxic stainless steel.  You can use the MJ445 to make other kinds of vegetable and fruit juice as well. The Miracle MJ445 is the best manual juicer can find.
Best Bang For Your Buck Manual Wheatgrass Juicer: The Original Healthy Juicer (Lexen GP27)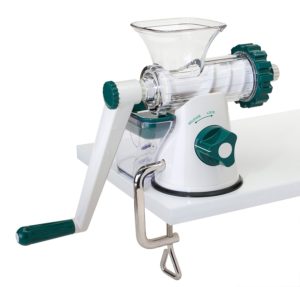 The Original Healthy Juicer Lexen GP27 is an excellent wheatgrass juicer if you are on a budget. While it's not made of stainless steel, it is built solid, and many people have been using this juicer for years without issue. Like the other two juicers above, it can juice more than just wheatgrass, but the manufacturer does insist that its best used for wheatgrass juicing. It is compact, portable, and light weight, which also makes it an excellent wheatgrass juicer for travel! Michael Bergonzi of the Hippocrates institute has been endorsing this specific wheatgrass juicer for many years.
These are the best wheatgrass juicers on the market. I would definitely choose the electric juicer if you can afford it, but either of the manual ones below could be a good option if you just want to try wheatgrass juice. Just don't get too disappointed if you find out that it's more work than you'd like!
Leave a comment below if you have a favorite wheatgrass juicer we didn't suggest.