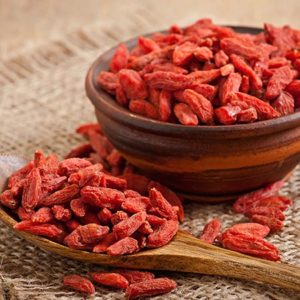 We all love a new and exciting superfood to try, and goji berries are no exception. However, if you're introducing them into your diet, you do need to be aware of side effects from goji berries. With a little bit of know-how, you can side-step these and enjoy all of the health benefits these berries have to offer.
Side Effects of Goji Berries
Every problem has a solution if you know where to look. Here are the most common side effects of goji berries, as well as how to minimize the risk to your health and well-being.
1. Problem: Interaction with medicines
Goji berries are powerful little bundles of nutrients. Unfortunately, they also have the power to interact with certain medications. They can increase the blood-thinning effect of warfarin. They may also add-on an effect to blood pressure and blood sugar medications, which can be dangerous.
Solution: Consume away from medicines
Get smart about your timing of goji berries. Try to consume them at least 4 hours away from your medications whenever possible. So if you take your medications in the morning, sprinkle your goji berries over your dull lunchtime salad.
2. Problem: Diarrhea
The vitamin C and fiber in goji berries is fantastic for your general health and well-being. Unfortunately, too much at once can be a tummy upsetting move. The most common symptom of high goji intake is diarrhea, although some people may also experience related symptoms such as gas and bloating.
Solution: Eat small amounts frequently
This is an easy fix. You just need to reduce the volume you consume. Instead of eating ½ a cup for breakfast, have a tablespoon 2-3 times a day as part of snacks or meals. Your digestive tract is much more able to cope with smaller amount more frequently, rather than a large dose all at once.
3. Problem: Low blood sugar
Another side effect of goji that can be good or bad depending on the individual is the lowering of blood sugars. For someone with naturally low blood sugar levels, this can cause symptoms such as dizziness, fatigue and even fainting.
Solution: Consume with other foods
If you have lower blood sugar naturally, you can still enjoy goji berries. Simply team it up with another food to keep your levels steady. This is where adding goji to your breakfast or salad is a perfect option.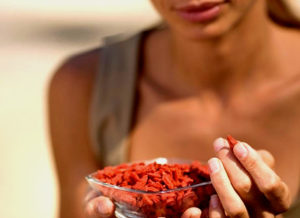 4. Problem: Consumption during pregnancy
Although it isn't proven, there is a theoretical issue with consuming goji berries during pregnancy. There are constituents that could potentially stimulate contractions and induce labor. If you are 9 months pregnant, this might be fine, but for everyone else, it's a potential danger.
Solution: Consult your doctor
This is one problem that we can't advise you on – it's up to the professionals. Although there's no research to show goji berry side effects include pregnancy complications, it's best to play it safe. Have a chat to your doctor about safe consumption.
References
http://www.sciencedirect.com/science/article/pii/S0963996911001840
http://bjsm.bmj.com/content/47/6/399.short
http://online.liebertpub.com/doi/abs/10.1089/acm.2008.0004