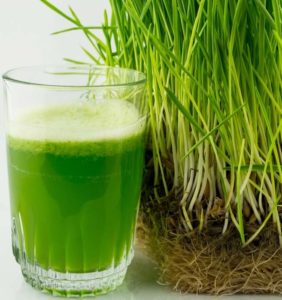 I recently attended a discussion on barley grass given by the owner of a juicing company. My friends had been talking about this green super food and its benefits for a while and I had always been curious about it. Soon I was handed a glass of green juice to drink. Quite honestly, it tasted like, grass (yikes!). But I was still hooked (being curious as I was to experience barley grass benefits for myself)- so I decided to give it a try and have come to love it. Very soon after trying it (in just 2 weeks in fact) I noticed my skin was less dry, my hair shinier and my nails stronger. So today I want to share the top 5 health benefits of barley grass with you!
If you decide to try it, be sure to check out the best 5 barley grass juice powder brands.
1. It is a powerhouse of antioxidants
Many experts believe that barley grass has the most balanced nutrient profile of all green plants and these nutrients work synergistically as powerful antioxidants to protect our bodies from damage caused by free radicals. This same balance of nutrients also boosts immune function and protects against cardiovascular diseases.
2. Enables the DNA to repair itself
Barley grass benefits have been studied extensively in Japan since the WWII. According to biologist Jasuo Hotta of the University of Southern California, drinking powdered barley grass can repair damaged DNA. DNA, explained simply, is the genetic material that creates blueprints from which our body makes its cells. Carcinogens tend to damage this DNA. Based on Hotta's studies, powdered barley grass repaired the damaged DNA at twice the rate than cells that were left to their own devices. This wonderful super-food might just help humans fight cancer.
3. Cures just about anything that ails you
There is a reason why more and more health care practitioners are recommending barley grass to their patients. One of the many barley grass benefits is that it contains almost every essential amino acid, 12 minerals, 13 different vitamins including vitamin K and 41% digestible protein. With this powerhouse of vitamins, minerals, and amino acids, you naturally boost your immune system and get on the path of health and wellness. According to Dr. Howard Lutz of Institute of Preventative Medicine in Washington DC, barley grass benefits include improved stamina and sexual energy, clarity of thought and reduced addictive impulses.
4. Anti-Aging benefits
Barley grass is super rich in antioxidants and alkalizes the body by fighting inflammation and free radicals that age the body. The compounds in barley grass provide raw building blocks for hair, skin, and nails. With 66 times the chlorophyll of spinach, it makes your intake of raw veggies as easy as one healthy glass of barley grass juice in the morning. With regular intake, you will notice better digestion, improved stamina, better skin and shinier healthier hair and nails.
5. Barley grass may be the only superfood you need
As already mentioned, Barley grass contains 20 amino acids (including 8 which the human body does not manufacture!), 12 minerals and 13 different vitamins. It has 600 mg of fiber per serving which explains why you will have regular bowel movements and detoxification. Barley grass has 10 times the calcium of milk, 5 times the iron and 66 times the chlorophyll of spinach. With so many nutrients, barley grass may indeed be the only super food everyone should have.
Conclusion – give barley grass a try!
Barley grass has been used for decades by naturopaths to aid in healing allergies, anemia, arthritis, asthma, chronic fatigue, constipation and skin injuries. It does more than keep you healthy- doctors have described miraculous turnarounds in the waning health of very sick people with it. With so many barley grass benefits, let us all raise a toast to this health food!