If you want to incorporate seaweed in your diet, I'd recommend dulse flakes. Dubbed Spinach of the Sea, or King of Seaweeds, they pack a serious nutritional punch and can benefit you immensely – like improve your digestive system, boost your circulation, better your vision, lower your blood pressure, strengthen your bones, bolster your immunity, and so on. And dulse flakes are super easy to use – just add them to your smoothies, soups, salads, veggies, rice, and grits.
Here are my top 3 picks from all the many dulse flakes brands available.
Maine Coast Sea Vegetables Dulse Flakes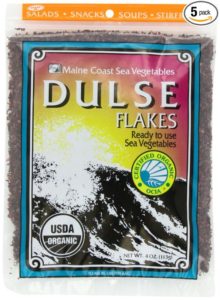 Maine Coast Sea Vegetables Dulse Flakes taste as good as the dulse whole leaf, and are loaded with the same nutrition as the leaves – but not as expensive as the whole leaf.
These dulse flakes contain a considerable amount of iodine, protein, iron, several B-vitamins as well as phosphorus, zinc, magnesium, calcium, riboflavin, chromium, fluoride, niacin and other vitamins.
The flakes do not need to be cooked, or soaked, and are ready-to-use straight out of the packaging. You can add them directly to your salads, veggies, soups, sandwiches, smoothies. You can even fry them to get a zingy flavor.
The flakes are harvested by hand from the Gulf of Maine. Dulse leaves for milled products of Maine Coast Sea Vegetables are grown in shallow channels, which makes it easier to obtain. The flakes are certified organic by the OCIA (Organic Crop Improvement Association).
Price: $ 42.27 for 20 oz (pack of 5 4-oz packets) (check price)
VitaminSea Organic Dulse Flakes
VitaminSea Organic Dulse Flakes are harvested by hand in Maine's unspoiled waters. The seaweed is dried naturally in the sun before it is converted to flakes. These flakes are organic, as certified by the USDA (United States Department of Agriculture), and are vegan and kosher.
They are full of nutrients and are an excellent source of iodine, along with the highest concentration of iron. They also boast of a high amount of protein, and contain vitamins A, B C, D and E, magnesium, calcium, amino acids, and phosphorus.
You can consume them raw, without any cooking or soaking. You can also fry, bake, toast or smoke these flakes. You can add the flakes to salad dressings, soups, rice and bean dishes, cheese, breads, chowders etc.
Price: $ 27.95 for 8 oz/224 gm (check price)
RahimaliOrganic Raw Organic Dulse Flakes
These raw dulse flakes from RahimaliOrganic are whole dulse leaves that are pounded into fine flakes. The dulse is hand-harvested in the rich waters, off the coast of Maine. They contain iodine in abundance as well as other trace minerals.
The reason they are named 'raw' is that the dulse leaves are dried naturally in the sun, without any other drying method
These dulse flakes are also rich in protein, iron, chromium, vitamins A, C, E and K, phosphorus, alginate, potassium, sodium, carotene, and B-complex vitamins.
You can sprinkle these flakes as seasoning in marinades and soups and even use it while baking cookies, biscuits, tarts and cakes.
Price: $ 12.95 for 4 oz/112 gm (check price)
Let us know if the comments if you try any of these or have a different favorite!